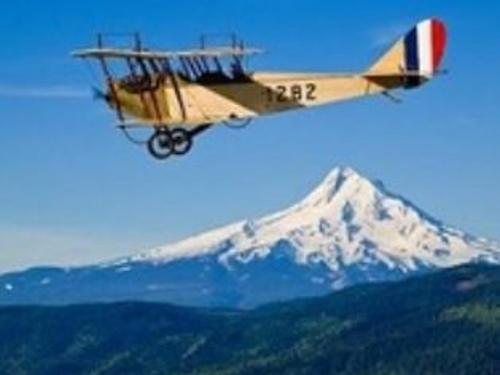 The WAAAM Antique Aeroplane & Automobile Museum has one of the largest collections of still-flying antique aeroplanes and still-driving antique automobiles in the country. The items on display at this museum are not only full of history, they're full of LIFE!
Whether you're a fan of airplanes, automobiles, motorcycles, or history, a visit to WAAAM's three hangars full of all of the above is going to be a highlight of your trip.
And the amazing thing is that this is not just a collection of exhibits. It is a gathering of living machines returned to doing what they were built to do.
-----------------------------
1928 BOEING 40C, N5339
The oldest flying Boeing in the world
now lives at WAAAM!
This was your friendly editor's very favorite story and airplane in an afternoon packed with favorites. Enjoy the story, and get out there and see it in Hood River!

Boeing 5339's life started in April of 1928 when Boeing delivered the airplane to Pacific Air Transport (PAT). Pacific Air Transport operated the airplane on Commercial Air Mail (CAM) 8 from Seattle, WA to San Diego , CA.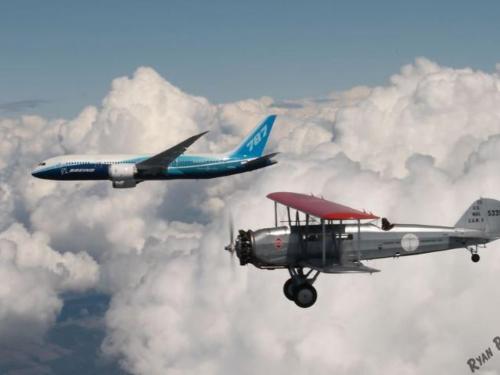 On October 2, 1928 the airplane crashed due to bad weather near Canyonville, Oregon. The accident took the life of the sole passenger, D.P. Donovan, a diamond dealer from Los Angeles, CA, and severely burned pilot Grant Donaldson. In the days following the crash, PAT recovered the airplane's engine, along with the mail onboard, Donovan's remains, and some of his diamonds. In the following years, the only visitors to the airplane were locals searching for diamonds - only a few of which were successful. In the late 1980s, a local geologist named Ron Bartley took interest in the now locally famed "
Canyonville mailplane
". After many years researching and searching, he found the airplane and in 1996 he convinced the
Oregon Aviation Historical Society (OAHS)
to recover the airplane. In 1999, the OAHS contacted Addison Pemberton, who had been looking for a Being 40 project to rebuild since 1980 and on February 17th, 2000 they agreed to sell the airplane to Pemberton. The work needed to get the airplane air-worthy was extensive however any components that could be safely reused were. After 8 years and approximately 18,000 hours of labor, 5339 took to the air again on February 17, 2008 - nearly 80 years after its accident. Although 5339 was one of 81 Being 40s built, it currently is the only flying example of the type and holds the title of the oldest flying Boeing in the world.
Pemberton & Sons Aviation
is proud to operate and display the airplane and would like to thank all involved. Some 60+ volunteers worked over the 8-year period to restore the airplane. Without them, the airplane would not be what you see today.
Canyonville Mailplane Story from Oregon Aviation Museum

~ Downloadable PDF ~
Download PDF
Western Antique Aeroplane and Automobile Museum
1600 Air Museum Rd. Hood River, OR 97031
http://www.waaamuseum.org/
(541) 308-1600
Open Daily 9 - 5 Closed: Thanksgiving Day, Christmas Day, New Years Day
Photo credits: WAAAM, Ryan Pemberton
SECOND SATURDAY JANUARY 13th, 2018 _10a - 2p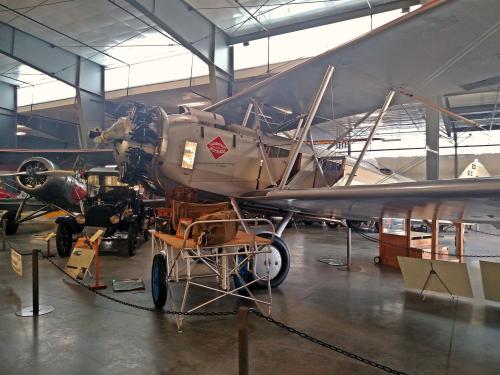 Join us the Second Saturday of each month when WAAAM gets the engines running. Action occurs between 10am and 2pm. Lunch is served between 11am and 1pm.
Second Saturdays throughout the winter will be held indoors. Weather permitting, cars and airplanes will be taken outside. Otherwise, there will be indoor events including demonstrations, special exhibits and hands on experiences for visitors.
Our antique aircraft, automobiles, motorcycles, tractors, military jeeps and engines all get their day in the sun when museum volunteers get to show visitors that this is not just a bunch of old, dead stuff ... that life goes on for our artifacts!
See more Aviation and Auto attractions under Museums & History in the Locations tab!